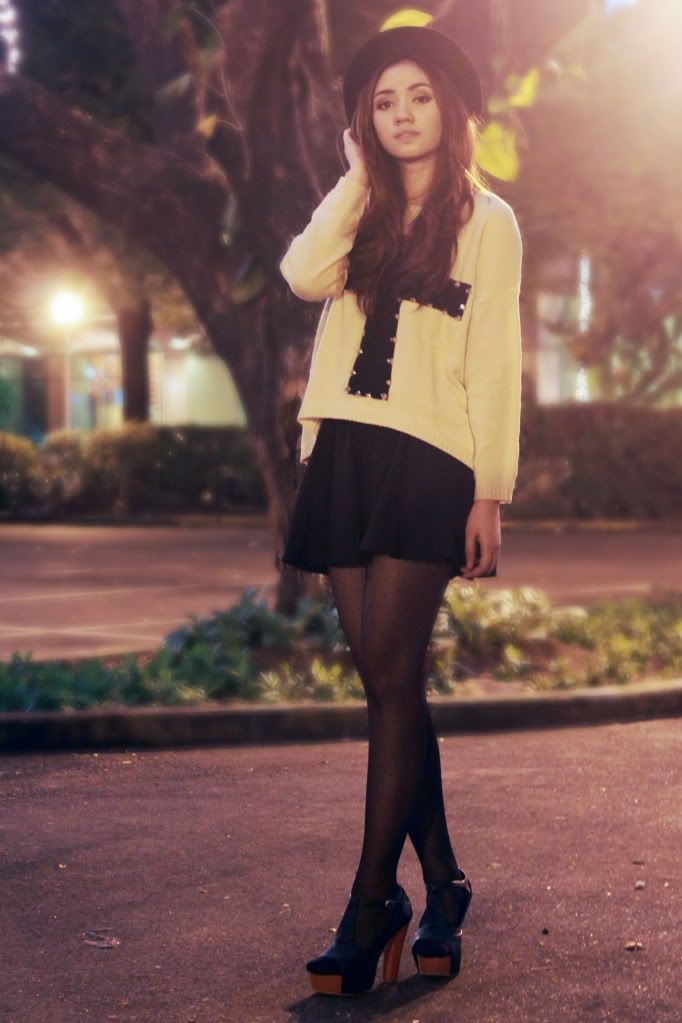 Sweater and Skirt from
ROMWE
Hat VINTAGE
Shoes from PRIMA DONNA
HELLO, EVERYONE! I'm back blogging again after soooo long!
Despite the busy schedule that is my life (drama?), I could not resist updating my blog with an outfit post. Right now, I'm still waiting for my classmates to send over their parts for our report. So I'll make this quick entry while waiting. Here's my latest look for you guys :)
You know what they say about this season...it's SWEATER WEATHER! And I've been so obsessed with them! I'm particularly fond of this one. I love the fit, the cross, the spikes...
I went urban with this look, pairing it with mostly black. Both my sweater and my skirt are from
Romwe.com
. I'm glad I chose these two items. Good basics are always a must-have.
I wore this before changing into my costume for an evening of music featuring the Philippine Philharmonic Orchestra, and the Ateneo Chamber Singers. It was the first time I sang with the ACS so I was really excited! We serenaded the audience in the park along Salcedo Street, Makati with Christmas carols. The lights were beautiful, so I asked Irvs if we could try taking night outfit shots. They turned out a bit grainy, but I think they still worked :)
Anyone have any tips on how to take better night shots? :P
Photo credits to Irvinne Redor
You can hype this on Lookbook.nu