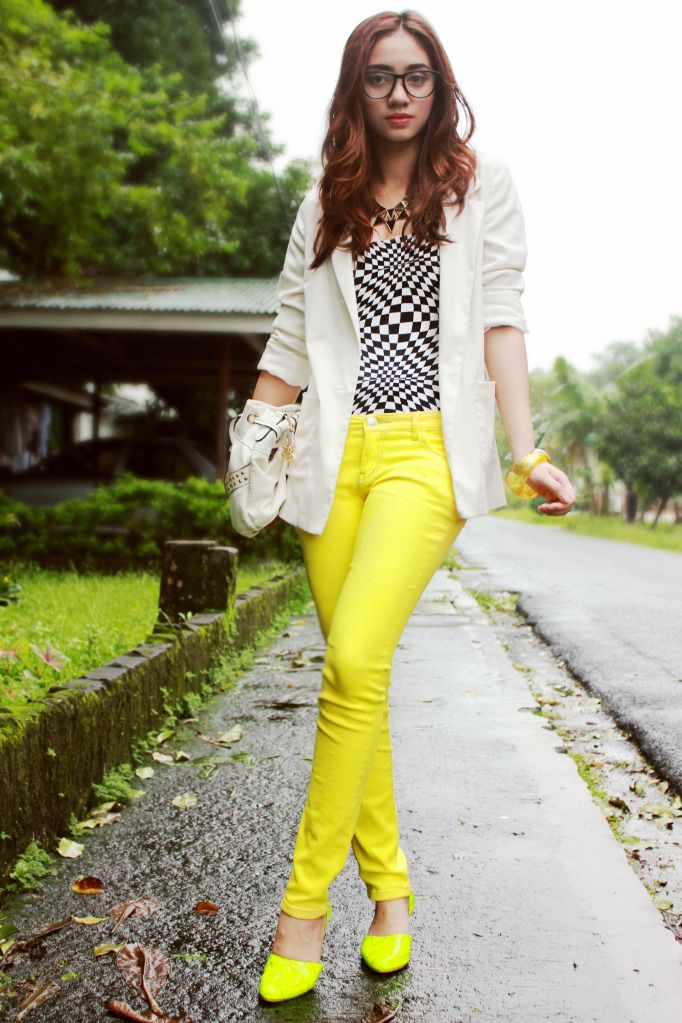 Vintage retro swimsuit (used as top); Pants from Greenhills tiangge; H&M blazer; Glasses from
And so the question for today is: Is my torso really that flat?! :P
No, no...I don't have a new workout regimen. Although I do wish I could have a perpetually flat abdomen, my swimsuit is merely an optical illusion. But seriously, I saw this vintage swimsuit and I had to wear it. I don't think I've ever seen a print like this in stores recently. Perhaps because in some ways, I must admit, it is potentially tacky...but it's my blog, and I can wear what I want! Mehehe :P That's an authentic retro piece right there (it used to be my mom's). Since it was backless, I added my blazer to keep things decent for a casual day.
I thought I'd complete the look with bright, funky colors, such as this bright yellow pair of jeans. And as if that wasn't it enough, I finished this outfit with shoes that were even a louder shade of yellow. Fluorescent yellow, to be exact!
Fluorescent yellow shoes? What will these trends come up with next? :P Again, these flats are from
Hebe Manila
! If you want flats that will make you stand out from the rest, this brand will definitely be a good place to look! Check out their collections
HERE!
On a side note, I'm blogging right now when I should be studying. It'll only take a few minutes anyway. Everyone needs a study break! Also, I know I owe you guys a little somethin' somethin'! Yes yes!
Day 2 of my giveaway is coming up real soon!
Watch out for my next post ;)
In the meantime, why not join
DAY 1 of my blog-versary giveaway
,
Ciao readers! :)